Podcast: Play in new window | Download
John Montagna, a professional musician, describes what life is like on the road during his stint as the house band bassist on the
Happy Together
tour through a series of road diaries.
John Montagna
is a Brooklyn native, he has logged thousands of  road miles while touring with acts like Alan Parsons, Todd Rundgren, and former Wings guitarist Denny Laine.  He has recorded with several artists, and has released four independent solo CDs showcasing his talents as composer, multi-instrumentalist, arranger, and producer.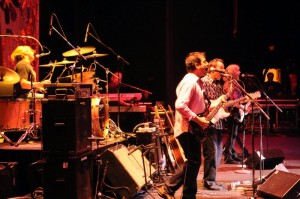 Check out this cool video featuring one of John's Song's that was incorporated into a dance piece!  More on John's Website.
Credits: "MLR Intro" by "Rob McCann", "Nothing But Words" by "John Montagna", "12 O'clock" by "John Montagna", "Coffee Down" by "John Montagna", "Ticket to a Sunrise" by "John Montagna", "The Internet Song" by "Four Eighteen"