Podcast: Play in new window | Download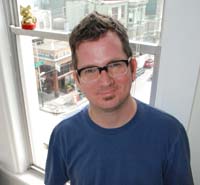 Chuck Lindo
's current projects include
The American Professionals,
and the indie rock band
Actionslacks.
Chuck hails from the St. Louis punk band
The Nukes
, the surf-inspired
Jumbo Shrimp
(featuring
Dead Kennedy's
East Bay Ray and Klaus Flouride), and alt rock band
Dryspell.
In 2007, Chuck
founded music house
Jingle This
with partner
John Schulte
. They specialize in composing contemporary music for advertising while keeping one foot firmly in the past, fighting to keep the idea of the old fashioned jingle alive. Josh Almond interviews Chuck about his past, his current projects, his business, and all things in between. When not performing, writing, recording, or touring, Chuck enjoys staring at the wall and thinking of nothing.
Credits: "MLR Intro" by "Rob McCann, " The American Professionals Theme – Stax", by "The American Professionals", "Space Between" by "The American Professionals", "Shades of Grey" by "The Nukes", "Honest Engine" by "Dryspell", "Us, Weakly" by "Actionslacks", "The American Professionals Theme" by "The American Professionals", "The Specialist" by "The American Professionals", "The American Professionals Theme – Sunset" by "The American Professionals"
The Nukes featuring Chuck Lindo on Bass

American Professional's / Jingle This Commercial

For more of Chuck Lindo's commercial work for tv and radio:
http://www.theamericanprofessionals.com/