Podcast: Play in new window | Download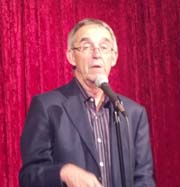 Ron Shock is a comedian with one hell of a life story. His career path includes priest in training, chain gang member, attempted jewel thief and subsequent guest at a maximum security penitentiary, computer programmer in the U.S. Army, and Vice President of a Fortune 500 company.  At age 40 he had an epiphany, and became a stand-up comedian. We talk with Ron about his life, love of music, job as concert financer for the Australian Odyssey Festival, affair with one of James Brown's backup singers, and about his experience as an opening act for Ringo Starr.  Part 1 of 2.
Ron has appeared on the Tonight Show (both Johnny Carson and Jay Leno), Showtime (Ron Shock – Bad Gig Blues), A&E's "Evening at the Improv", and he has starred in his own one man show "The Storyteller"
Ron Shock is featured on Marc Maron's podcast WTF 54, a great reference, with broader focus on his comedy career, and highly recommended listening. More stories from the master!
Credits: "MLR Intro" by "Rob McCann", "Whiskey on the Mississippi" by "Kevin MacLeod", "Van Seats" by "Ron Shock", "There It Is" by "Kevin MacLeod, "Ham and Cheese Sandwich" by "Ron Shock", "Whiskey on the Mississippi" by "Kevin MacLeod".
Ron Shock – Orleans Parish Prison