Podcast: Play in new window | Download

Jason Everman
has lived a very interesting life, and he is just getting started! He has been in several of my favorite bands including Nirvana, Soundgarden, and Mindfunk, and  he has spent parts of his life as a commercial fisherman, a Nepalese monk, a bike messenger, both an Army Ranger and Special Forces soldier, and a student of Philosophy.  Check out this profound interview with guitar hero, war veteran, and historian/philosopher Jason Everman.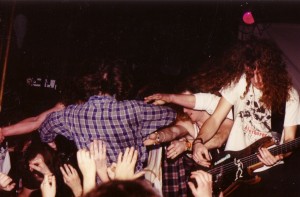 Credits: MLR Intro by "Rob McCann", "Prelude" by "Jason Everman", "I'm Not Going" by "Stonecrow", "Aero-Zeppelin (live at the Vougue)" by "Nirvana", "Beyond the Wheel (live at the Whiskey)" by "Soundgarden", "Wisteria" by "Mindfunk", "Exposition" by "Jason Everman", "Development" by "Jason Everman", "Recapitulation" by "Jason Everman", "Coda" by "Jason Everman", "11 Ton Butterfly" by "Mindfunk".
Check out these videos featuring Jason Everman in various bands, including Mindfunk, Soundgarden, and Nirvana. Also check out Jason's "Go To War" playlist.