Podcast: Play in new window | Download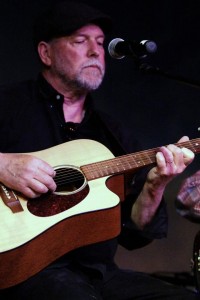 David Denny is a guitar maestro, singer, songwriter and recording engineer.  He was a founding member of the 60's psychedelic band Frumious Bandersnatch, went on to play guitar in the Steve Miller Band  on and off for several years (writing one of the band's hit's with the song "The Stake" (Nobody Loves You Like the Way That I Do), and also serving as both road manager and guitar tech for the band.  He has also recorded a couple of solo records (Diesel Harmonics, Louisiana Melody), worked on film scores, recorded songs with his wife Katy Peck (as The Winds of Lyon) and recorded live performances of many great acts.  David talks to Music Life Radio and shares many great stories, and we listen to recordings throughout his musical journey.
Credits: "MLR Intro" by "Rob McCann", "Something's Wrong This Time" by "The Winds of Lyon", "Swaying" by "Frumious Bandersnatch", "The Stake" by "Steve Miller Band", "Walk On the Wild Side" by "David Denny", "If I Could Get Some Sleep" by "David Denny", "The Day is Winding Down" by "The Winds of Lyon", "So Far So Good" by "David Denny".